DB2 Services has installed dozens of metal roof systems across Kansas City, and throughout Kansas and Missouri. Our experienced crews have the equipment, training and expertise to tackle any project.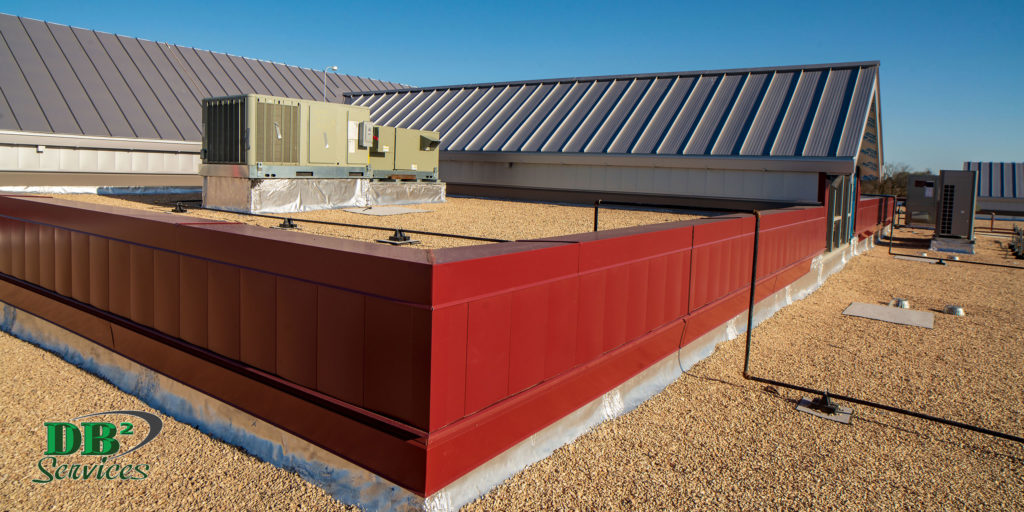 Roof Systems
Did you know that an average building roof is replaced (or repaired) in as little as ten years? Choosing the correct roofing material for your business or organization is a critical decision which will minimize the long-term costs, as well as the environmental damage caused by having made the wrong choice.
If you need a new roof, now is the perfect time to make some changes that could benefit your organization in the long run. Choosing the correct material can lower your energy costs, while increasing your property's value.
Your roof is your first line of defense against the weather. Choose a roof that is durable, and won't fail in extreme weather conditions. Today's metal roofing can provide you with any style or color that would complement your business perfectly. Aluminum can be shaped to look like tile, slate, shingle or shake.
While the initial cost of a metal roof is higher than some other roofing materials, it can save you money in the long run. For example, due to the high impact resistance of the roof to hail, a metal roof can lower your insurance. Metal will also be unaffected by other extreme weather, as aluminum won't deteriorate. With the lightweight benefits of metal, your roof won't need a heavy-duty truss or structure system.
Metal roofing can decrease the chances of roof collapse, during earthquake or fire damage. Metal roofing products protect your structure from sparks due to flying embers, should fire threaten. The initial expense of installing this product is quickly realized as a solid investment, and a metal roof eliminates the need for future re-roofing and maintenance. Modern metal roofing systems retain their appearance and color for decades.
Recent Projects